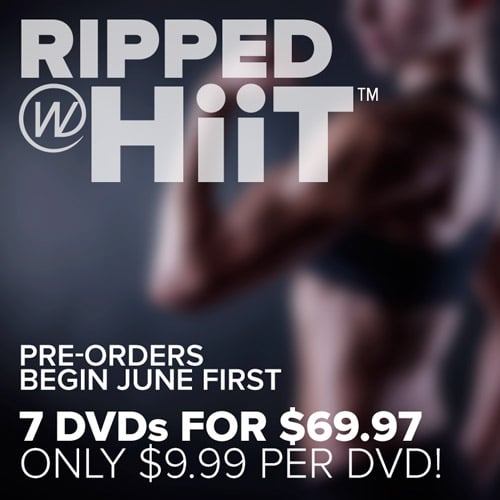 Hi Everyone,
With all of the talk about Cathe Live and OnDemand this past month, I thought it was time to show my DVD's a little love, lol. Yes, you heard right… DVDs!!! I'm super excited to announce that I am currently (and diligently) working on 7 NEW DVD's which make up my new series called Ripped With HiiT…a 7 DVD discount bundle (all DVDs in one case) that can be pre-ordered starting June 1st for only $69.97 – That's only $9.99 per DVD! Plus you get Double Free Worldwide Shipping (details explained below)! This series is truly the best of both worlds ….Heavy Weights and Hiit Training….the ultimate combo to get ripped and lean!
Ripped With HiiT™ combines three solid heavy weight workouts (on three separate DVDs), four solid cardio based HiiT workouts (on two DVDs), and two circuit Hiit workouts (on two DVDs). Why all the focus on Hiit training? Studies suggest that HiiT training is better at burning fat than other forms of cardiovascular training. Researchers believe this is because the body is unable to really predict what you're going to do and, therefore, has a harder time going into what is known as steady state where it's easy to conserve energy (calories). Another contributing factor is that HiiT revs up your metabolism, increasing the rate at which your body consumes oxygen for up to 24 hours after your workout (the afterburn effect you've heard me talk about so many times before).
The Ripped With HiiT™ series has been designed by me to produce the maximum amount of results in as short of a time as I feel possible. While my goal for this series is to keep the workouts as time efficient as possible (most coming in at 47 minutes or less), the length of a workout is not nearly as important as the intensity of the workout. When it comes to producing changes and results in your body "intensity" is what these workouts are all about. All workouts will feature premixes and you will have the option of even doing time saving single muscle group premixes with each of the upper body "Lift it Hit it" workouts.
Ok, I'm getting a little ahead of myself here. Let me back up a bit and share the "sweaty" details of each workout in my new Ripped With HiiT™ series with you. Learn about all of the details at:
Cathe Friedrich - Announcing Cathe's Next DVD Series - Ripped with HiiT