Administrator
Staff member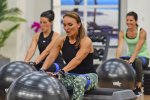 Pictured here are Cathe, Jenn A, and Jenn D doing a Forward Tilted External Hip rotation exercise. This exercise is part of the bonus footage filmed for STS 2.0 Lower Body #2. Keeping the hip external rotators strong and flexible can reduce the risk of injury during workouts or everyday tasks.
Pre-Order Cathe's New STS 2.0: Muscle & Recovery Workout Program Now At:
https://bit.ly/2WDfkdh
and Get Free Worldwide Shipping!