Administrator
Staff member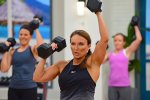 Alternating sides, and/or working unilaterally, helps to correct strength imbalances, increases core strength, and recruits more muscle fibers than bilateral movements. It's a great training technique to incorporate into any workout program!
Pre-Order Cathe's New STS 2.0: Muscle & Recovery Workout Program Now At:
https://bit.ly/2WDfkdh
and Get Free Worldwide Shipping!