Administrator
Staff member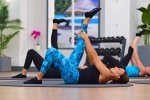 Here is a picture of Cathe, Jenn A, and Brenda enjoying a hamstring stretch in the "Total Body Stretch" recovery workout. Stretching is a wonderful compliment to (and just as important as) your weight-lifting workouts. It decreases muscle stiffness and increases range of motion. Stretching also reduces muscular aches and pains while releasing endorphins into the body. Stretching is so good for you and even better if you can do a little every day.
Pre-Order Cathe's New STS 2.0: Muscle & Recovery Workout Program Now At:
https://bit.ly/2WDfkdh
and Get Free Worldwide Shipping!