Administrator
Staff member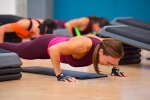 Pictured here are Cathe, Jenn A, and Jenn D doing push-ups in STS 2.0 the Single Body Part Chest workout.
Notice the three options. While Cathe is doing push-ups unassisted, Jenn A is using a fabric loop across her arms to assist in making the push-ups easier to perform while Jenn D is using a fabric band across her back to make a standard push-up harder.
No matter what option you choose, push-ups will get you stronger!
Pre-Order Cathe's New STS 2.0: Muscle & Recovery Workout Program Now At:
https://bit.ly/2WDfkdh
and Get Free Worldwide Shipping!