Administrator
Staff member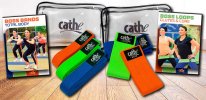 Estimated to now ship somewhere between July 30th, 2021 and August 21st, 2021 *Pre-Order Now at
https://bit.ly/3u1ZkNw
Hi Everyone,
Time is running out to get your lowest price on Boss Bands & Boss Loops. Current pre-sale prices end in just 4 more days on July 9th.
Update: 7-5-21: We also want to let everyone know that we were able to get our containers with the Boss Bands & Loops loaded onto a cargo ship and we were just informed just this morning that the ship has left the port and is on its way to the port in New York. This is typically a 30 to 35-day journey. Then it will just depend on how congested the New York port is and how long it will take customs to clear our shipment and for our shipment to be delivered by truck to us here in New Jersey.
So, based on our latest information our estimated pre-sale shipping date is now somewhere between July 30th, 2021, and August 21st, 2021. This is just an estimate. We will no more once the ship arrives in port and clears customs.