Administrator
Staff member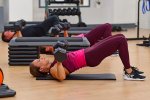 Pictured here are Cathe, Kristin, and Al doing a Glute Bridge Chest Press variation in the bonus footage of the Single Body Part Chest workout in STS 2.0.
We've included bonus footage in each of the Single Body Part workouts to expand your ability to increase your workout variety, intensity, and duration.
In this particular exercise, keeping the hips elevated while doing a chest press activates the core and the posterior chain to a much greater degree which increases the intensity and metabolic demands.
Not only does the bonus footage enhances your workout with various exercise techniques but it also increases the ability to vary the premixes too. What's not to love?
Pre-Order Cathe's New STS 2.0: Muscle & Recovery Workout Program Now At:
https://bit.ly/2WDfkdh
and Get Free Worldwide Shipping!