Administrator
Staff member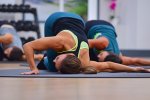 Pictured here are Cathe, Jenn D, and Kristin doing a deep shoulder stretch in the STS 2.0 Mobility #2 recovery workout.
This stretch helps increase your flexibility and extend your range of motion, which done consistently and over time will help to strengthen it. Releasing tension in your shoulders as well as in your entire body can improve your overall feelings of wellness, too.
Pre-Order Cathe's New STS 2.0: Muscle & Recovery Workout Program Now At:
https://bit.ly/2WDfkdh
and Get Free Worldwide Shipping!