Administrator
Staff member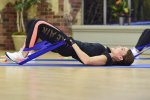 Hi Everyone,
As we approach the end of June our main priority is the shipping of our Boss Bands and Boss Loops from China to here in the USA as this will be the main determining factor of when the presale orders will be able to ship.
We cleared our first major hurdle this weekend when our shipping containers were delivered to the factory in China that manufactured our fabric bands, loops, and travel cases. This is a big deal because there is a huge shortage of shipping containers in the world right now and this could have caused a major delay.
Our next major hurdle, and this is a big one, is getting our containers on a cargo ship for the long journey to the USA. Shipping out of China is a total mess right now, but hopefully, we will be on a boat and on the water soon. Once this happens we will have at least a rough idea of when we will be able to ship you your pre-sale orders. We will update you again when we know more.
New Cathe Low Impact Workouts For Everybody • Take Them Anywhere
Pre-Order Now at
https://bit.ly/3u1ZkNw
*current presale prices end July 9th