Administrator
Staff member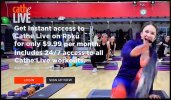 We just released our new Cathe Live app and should now be available in the Roku Streaming Store in all countries.
If you already have the Cathe Live app on your Roku it should update automatically. The new Cathe Live app should also now work in all countries.
To view Cathe Live You must purchase a Cathe Live or a Cathe OnDemand subscription directly from us at
https://cathe.com/ondemand_subscribe/
. You may also purchase a Cathe Live subscription directly from the Roku store, but this will only give you access to Cathe Live on Roku and not all the other devices we support, like Apple TV, iOs, Android, and Fire TV.
Let us know of any issues you see.