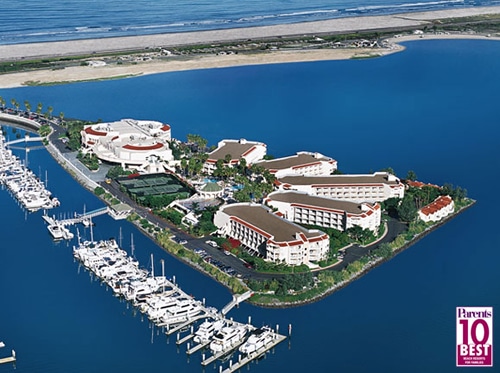 Destination: San Diego
We can't think of a better way to celebrate our twenty year anniversary than by having our next EB road trip (March 26th – 28th, 2010) in the city where Cathe launched her career twenty years ago at the young age of 24 – San Diego, CA.
It was at the IDEA International Aerobics Convention in San Diego in 1989 that Cathe released her first video, Step N motion 1 which became the #1 selling step video in 1989 and catapulted Cathe onto the world stage helping to create a movement that is known today as Power Stepping.
After listening to the feedback from the Daytona Cathletes we have decided to follow a similar format like we did in Daytona for our San Diego EB Tour event.
We've rented out the incredibly gorgeous Loews Coronado hotel where every room has a view of the water. You could not ask for a more beautiful hotel to hold an event like this and with our special room rate of only $149 per night you can enjoy all of the luxury of the Loews Coroando at an affordable price.
The Loews Coronado is known for its great food and you will enjoy a beautiful outdoor setting for most of your meals. We like to eat as a group as we have learned through our other events that this helps everyone to get to know each other as well as to meet and talk to Cathe in an informal and relaxed setting. We've really worked hard to make the food selections for this event our best to date and you can now view the menu for every meal.
Total registration fee for the San Diego Road trip is $299. Space is limited for the EB San Diego road trip to a maximum of 200 attendees. Registration will begin on Monday, December 7th.
A $100 non refundable deposit is required to register.
Since this is a non refundable deposit (no exceptions), make absolutely sure you can attend the San Diego event before registering. Your balance of $199 will automatically be charged to your account on February 7th, 2010. Once your final payment has been charged no refunds will given.
To Register - Click Here
(Registration begins December 9th at 12 noon)
Last edited: