Administrator
Staff member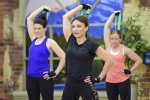 Hi Everyone,
We have some good news to share this week on two fronts concerning your pre-sale orders for Boss Bands & Loops.
First, we're now done with the authoring for both Boss Bands & Boss Loops DVDs, and this is the final phase of our work on this project as far as the DVDs are concerned. After a few more days of proofing, we will prepare the DVD masters and send them to our DVD replicator at the end of this week or early next week. The replicator will then make the stampers from the masters that will be used to make your DVDs and then they will send us checkdiscs for us to test and to give our final ok. After we sign off our production run will be scheduled.
Secondly, all of our fabric bands and vinyl cases have just finished being manufactured in China and starting today we will have a team of independent certified inspectors that will be on-site for three days in China to test, and verify the quality of all of our products and to make sure that everything is correct. Assuming everything goes well we then just have to get everything loaded into containers and then hopefully loaded onto a cargo ship for about a 30-day voyage to the port in New York.
Because of the Pandemic shipping is still chaotic and unpredictable from China. Heck, even in the USA shipping is a major issue and concern, Hopefully, we will not experience too many delays and as long as we don't we're still looking good to ship you your pre-sale orders sometime towards the end of July.
We also hope to share some Boss Bands & Boss Loops clips from the workouts with you next week!
Cathe's Boss Bands & Loops: For Everybody • Go Anywhere
Learn more or pre-order Cathe's new Boss Bands, Loops, DVDs, and Downloads at
https://bit.ly/3u1ZkNw