Administrator
Staff member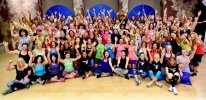 Who's ready for a Roadtrip??? "Beyond ready!", you say. Me too! As we hinted in an email last week (can't sneak anything past you guys), our 2023 Cathe Glassboro Roadtrip is a GO!!! This year's Roadtrip will be held July 28th, 29th, and 30th at Four Seasons Fitness in Glassboro NJ!
It's been WAY TOO LONG, Cathletes, and we can't wait to welcome you back into our "home" to sweat, laugh, sweat, eat, sweat … and make amazing new memories!
While we always guarantee fun high-energy fitness classes with Cathe as well as yummy meals, lots of chat time, picture taking, and memory making, this year we're also shaking some things up! It's a new year and some fresh changes and updates will make this Roadtrip better than ever! Oh, and we can't wait to show you our new set too!!! So come join us for an amazing weekend of love, laughter, and sweat!
Sign-up details, tentative schedule, hotel info and more will be coming soon! Mark your calendars, Cathletes! We can't wait to see you this summer!!!