Administrator
Staff member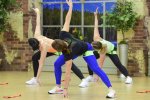 Hi Everyone,
As we approach the end of July we're waiting for the cargo ship transporting our Boss Bands & Loops to arrive at the NYC port. This should happen at the end of this week or sometime next week. Then it's just a matter of getting clearance for the ship to dock and our shipment receiving custom clearance. Ports are at over 100% capacity right now, but hopefully, our ship will not have to wait too long to get clearance to dock.
As soon as we hear something we will update everyone. In the meantime, we're starting to premake our shipping boxes so that we will be ready to ship you your presale Boss Bands & Boss Loops as soon as they arrive.
IMPORTANT
: If you have moved since you pre-ordered make sure to contact our customer service team at
[email protected]
with your new address. Don't attempt to change your address on our site as it will not change your pre-sale delivery address. Again, you must contact us to make this change.
*New Cathe Low Impact Workouts For Everybody • Take Them Anywhere
Pre-Order Now at
https://bit.ly/3u1ZkNw
*current presale prices end soon!