Hi,
I was simulating the purchase of some fitness accessories with the total amount being above 50 USD to get free-shipping and the amount I get from UPS is almost the double I get from a simulation on my national post office.
While UPS wants to charge me 43,30 €, the simulation I get from the Portuguese Postal Services is 26,26€.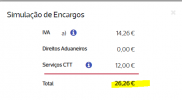 Is the calculation from UPS correct?
Is for situations like this that I think we, international customers, should be able to choose wether we want UPS or USPS.
Marta