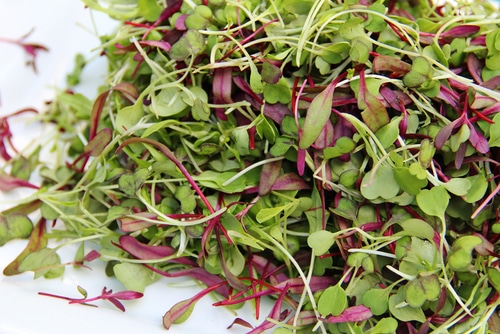 You already know the health benefits of vegetables. They're one of the best sources of vitamins, minerals, and natural antioxidants, all of which are beneficial for health. But there's more than one way to get the benefits veggies have to offer.
There's a good chance you've eaten most of your vegetables when they're mature, but there may be a better way – eat them when they're young. A new study published in the Journal of Agricultural and Food Chemistry shows that young veggies called micro-greens pack more nutritional punch than greens that are more mature. Have you had your micro-greens today?
What Are Microgreens?
Don't confuse microgreens with sprouts, an even more immature form of a plant that grows from germinated seeds. Sprouts germinate and begin growing from seeds in the absence of sunlight and soil. In fact, you can grow them in water. They are usually harvested once a few leaves appear. Microgreens grow in soil and produce roots. They usually have at least four leaves before they're harvested but are still quite immature. Sprouts may be only a few days old, while micro-greens mature for at least a week before going on a salad. Most are around two weeks old. A number of herbs including basil and cilantro and vegetables like broccoli, cabbage, kale, arugula, and celery are available as micro-greens, and more chefs are noticing them. They're a growing trend in higher-end restaurants.
Are Microgreens Better for You?
Good things come in small packages, at least when it comes to greens. Researchers at the University of Maryland found that micro-greens like radish and red cabbage contain four to forty times the amount of nutrients of more mature vegetables. Microgreens contained higher levels of antioxidant vitamins including vitamin C and vitamin E as well as nutrients that reduce inflammation like beta-carotene and lutein that are important for heart and eye health. Why should you add micro-greens to your plate? By eating micro-greens you can get the nutrients and cancer-fighting chemicals of greens without having to eat so many. This is an advantage since many people are reluctant to eat their vegetables.
How to Add Microgreens to Your Diet
Micro-greens are harder to find at supermarkets than mature vegetables, although some grocery stores carry baby lettuces, which are a type of microgreen. You may also find them at your local Farmer's market. If not, it's not difficult to grow them in a container at home using kits available online. When you grow them yourself, you'll always have fresh, chemical-free greens available for salads and meals.
To get their benefits, toss them into salads or tuck them into sandwiches and wraps. Use them as a topping on pizza or as an ingredient in your next omelet for an added nutritional punch. Drop them into your next batch of soup or use them as an edible garnish. Other ideas? Restaurant chefs use them to enhance the flavor of foods and as garnishes. Their flavor may be mild, in some cases, but some have a more powerful taste than more mature vegetables. This means you can use less. With their extra nutritional value, you won't need as much anyway. As with other vegetables, brightly colored micro-greens usually contain the most healthful phytochemicals.
 The Bottom Line?
Look for microgreens at your local supermarket or Farmer's market – and enjoy the nutritional benefits these young greens offer. If you're more adventurous, try growing your own in a container in your kitchen. That way you'll never have an excuse not to eat your veggies.
References:
Xiao, Z. Journal of Agricultural and Food Chemistry, Aug. 22, 2012.
WebMD. "Tiny Microgreens Packed with Nutrients"
Related Articles By Cathe:
A New and Surprising Way to Control Your Appetite – Eat Your Greens!
4 Unexpected Ways to Add More Green to Your Diet
5 Ways to Add Breakfast Vegetables to Your Diet.
What Are the Most Nutrient-Dense Fruits and Vegetables? You Might Be Surprised