Administrator
Staff member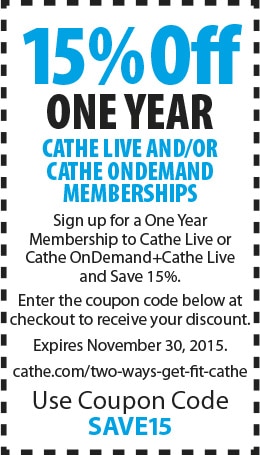 We have had a lot of request from International customers for non-recurring longer term streaming memberships. We've now added options for our 6 month and 1 year term memberships for both Cathe Live and our OnDemand (includes Cathe Live for Free) streaming. These are term memberships and do not auto renew. To sign up or learn more go to:
http://cathe.com/two-ways-get-fit-cathe
*** FYI: If you purchase either a
1 yrCathe Live
or a
1 yr Cathe OnDemand + Cathe Live
membership by
Nov 30th
and use coupon code
SAVE15
you will save 15% off the yearly price of both these memberships.
We've also added the ability to purchase Gift Certificates on our streaming site for our 6 month and 1 year streaming memberships only. You can't use streaming Gift Certificates towards our monthly recurring memberships. To purchase Gift Certificates for Cathe Live and OnDemand go to:
http://cathe.com/stream/product/gift-certificate/