Administrator
Staff member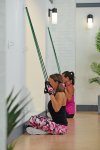 Pictured here are Cathe and Kristin doing a wall anchor lat pull-down with both green & black tubing (
) in the STS All Upper Body#2 workout.
Doubling up the tubing makes the exercise extra intense for those looking for the ultimate back challenge. Options will be shown for those who don't have wall anchors for their tubing and or any tubing at all.
Pre-Order Cathe's New STS 2.0: Muscle & Recovery Workout Program Now At:
https://bit.ly/2WDfkdh
and Get Free Worldwide Shipping!