Administrator
Staff member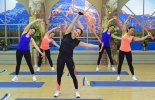 Hi Everyone! Do you love surprises?! Well, I've got a great one for you!!! Not only am I launching two brand new products, but I've also just finished filming two brand new low impact workouts to go with them!
I'm excited to introduce you to my brand new fabric Boss Bands and fabric Boss Loops! These fun products will kick your band workouts to the next level and to get you started with them I've created two all-new workouts! Let me tell you a bit more about them:
BOSS LOOPS: GLUTES & CORE
Are you ready to up your glutes game?! This intense low impact workout using Cathe's new fabric Boss Loops will attack those legs, glutes, and core from all angles with challenging standing and floor work EXERCISES and some sweaty cardio pushes sprinkled in! Boss Loops are also great to grab on the go when you want a solid lower body workout while traveling. Don't underestimate the power of this fabric resistance! Your lower body and core will surely be talking to you when you're done!
BOSS BANDS: TOTAL BODY
Time to put down your weights and grab your Boss Bands! This total body low impact workout is a whole new challenge for your muscles and your mind! We all know that weights are great and they will always be a staple in our fitness lifestyle, but a well-rounded strength and endurance routine requires us to mix things up to challenge our muscles in different ways. The new Cathe fabric Boss Bands will call on your muscles to perform in new ways from head to toe through a variety of compound movements and resistance variations. Great for at home or on the go, these Boss Bands will add a whole new dimension to your fitness routine and are the perfect workouts to take with you when you travel!
How's all that sound?! I hope you're as excited about these as I am! They were so fun to create and I can't wait for you to try them.

BOSS PRE-SALE & BEHIND THE SCENES INFORMATION
Today, we will begin to tell you about Cathe's new low impact workouts and her Boss Bands & Loops. But make sure to keep checking our website and social media sites for more details and pics as today is only the start of the story.
We think you will be glad to know that there will be 9 different bundle options available once our Boss Band & Loops presale begins. There will be options for those who only want the bands & loops, - a great option for our streaming customers. We also will offer bundle options that include the two new DVDs or Digital Downloads or both with our new Boss Bands & Loops. This will all be made clear on our pre-sale landing page that will be released once the presale begins.
We will send out a separate solo email and make announcements on our website and social media sites just as soon we are ready to take pre-sale orders.
Though it's hard to predict because of the Pandemic, we estimate DVDs and our new Fabric Boss Bands & Loops to be in stock toward the end of July. However, it is possible your pre-sale order will be ready before or after our estimated date. We will keep you updated, as we always do, as we know more.