Administrator
Staff member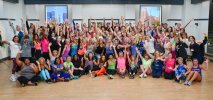 As I write this we have just finished sharing a few final hugs, saying our goodbyes (for now), and started heading back to our regularly scheduled programs. Oh boy, I can already feel the road trip blues kicking in. It seemed like forever to get here, and just like that, it was over! From the bottom of my heart, I can't thank you all enough for such a special weekend. It's been four years since our last in-person road trip and I think we can all agree that it was entirely too long! Although we did what we could with virtual road trips in those years "off", nothing can compare to the energy, enthusiasm, and love that can be felt by all when the Cathletes are in the house! I missed your stories, your smiles, your laughter, and your hugs! How fun that we picked up where we left off and now it feels like we never missed a beat!
I really don't know where to start! From the moment we kicked off (quite literally) with an energy-packed kickboxing class, to the final deep breath in the last class of the weekend, you showed me once again how strong and dedicated you are! 6 classes in 48 hours is quite a challenge, but you are fitness warriors and never missed a rep!
Of course, it wasn't all hard work and no play! We had some yummy meals to refuel! How'd you like that wood-fired pizza truck? Our Saturday nightglow party was most definitely a highlight! I loved seeing all your glow glam and sharing so many laughs together. We worked so hard all weekend, it was great to kick off those sneakers and put on our dancing shoes! And dance you did! Seeing you all out on the dance floor having an amazing time made my heart so happy! I hope you loved DJ Joe Vespe and Jon with his super fun photo booth! I can't wait to look through the photo booth album tomorrow and see all your fun pictures and messages!
Speaking of photos, I'm excited to share the many pics with you that our photographer Steve (Spike) captured throughout this entire weekend! We'll be posting those soon!
To all of our first-time road trippers, I hope that this road trip was everything you wanted and more! I was so happy to welcome you into our "home" and I hope you can join us again on a future road trip! To my veteran trippers, thank you for returning once again. You know how much I love seeing your faces year after year!
And now, reflecting back on all the euphoric energy we shared this weekend, I'm sure we're all feeling a little bittersweet. Sad that it's all over, but at the same time super inspired and empowered by the new friends we made and the connections we shared! I can't wait to see you all again in person one day but until then, "see you next workout (wink!)"
Heart Happy Hugs,
Cathe