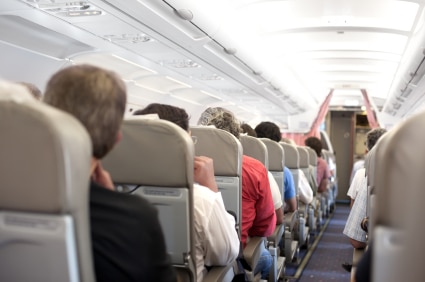 Do you travel frequently by car or by air? Traveling typically involves long periods of sitting, sometimes for hours at a time. Research already shows that prolonged sitting is bad for your health, but there's another reason why you need to move around and exercise while you're traveling. People who spend time sitting in a car or on a plane have a three-fold higher risk of developing a blood clot.
Why Exercising When You're Traveling is Important
Researchers at Harvard University looked at the link blood clots and travel by looking at 14 studies involving 4,000 people. They found that people who spent long periods of time sitting in a car or on a plane were three-times more likely to develop a blood clot. It's a sobering thought since one in four blood clots that moves to the lungs is fatal.
Blood clots that form in the deep veins in the legs can move to the lungs where they lead to life-threatening problems or even death. Smokers, pregnant women, people who are obese and women who take birth control pills or hormone therapy are already at higher risk for blood clots, and traveling in a car for hours without getting up to walk around only increases the risk. In fact, Harvard researchers found that the risk of blood clots rose further for every additional 2 hours spent sitting in a car or on an airplane.
Stay Active While You're Traveling
The best way to prevent blood clots when you're on the road or in the air is to drink more fluids and move around as much as possible. If you're driving or a passenger in a car, stop at a rest area or other convenient spot and walk for 5 or 10 minutes. This keeps the blood moving through your veins and reduces the risk of clotting. Drink a glass of water at least every hour, especially when it's warm outside.
When you're traveling by air your exercise choices may be limited to a walk to the rest room. While you're in your seat though, flex and extend your legs and feet, and don't sit with your legs crossed. The risk of getting a blood clot is greatest for flights of 3,000 miles or more.
The Bottom Line?
You may not be able to do a workout when you're traveling by air, but don't stay glued to your seat. Even healthy people can develop blood clots when they sit in a car seat or on an airplane for too long. Keep stretching and moving around to keep your blood circulating. It could save your life.
References:
Reuters. "Travel More Than Doubles Risk of Blood Clots, Study"
WebMD. "Blood Clots"
Tags: blood clot, blood clots, veins