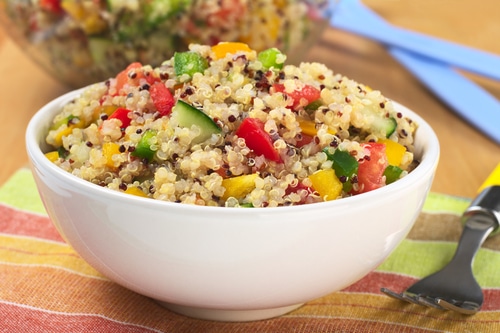 Quinoa, a protein rich grain-like seed, has caught the attention of nutritionist and dieters alike. The super food is high in fiber and packed full of a wide variety of vitamins and minerals. Unlike most other superfoods, quinoa is cheap and readily available in the majority of grocery stores. Here are just a few ways that quinoa's unique nutritional makeup can benefit a healthy diet:
Aids Weight Loss
Quinoa is a filling, low calorie source of complex carbohydrate. It helps to keep you fuller for longer because it contains high levels of fiber and polyunsaturated fats which are digested slowly by the body. It is an ideal low cholesterol alternative to bread, cereal, and other refined carbohydrates.
Perfect Protein for Vegans and Vegetarians
Not only is quinoa high in protein, it also contains all nine essential amino acids. The acids are important for tissue growth and repair, but they are only usually found in meat. The grain is also rich in iron, which is often lacking in meat- free diets. It is eaten much like rice or couscous and makes a convenient staple food in any vegetarian or vegan diet.
Prevents Migraines
The magnesium and riboflavin found in quinoa can reduce the frequency and severity of headaches in migraine sufferers. Magnesium stops blood vessels from constricting while riboflavin helps to improve energy metabolism in muscle cells, reducing the frequency of migraines.
Gluten Free Carbohydrate
Quinoa is a popular choice among celiacs because, unlike couscous and bulgur wheat, it is completely gluten free. It can be used as an easy to cook carbohydrate in any meal and is also available as gluten free flour.
Reduces Postmenopausal Symptoms
Eating quinoa and other high fiber food on a regular basis has been proven to prevent cardiovascular disease among postmenopausal women. A study found that women who ate 6 portions of whole grains a week had a much lower risk of developing high cholesterol, high blood pressure, and other symptoms of cardiovascular disease. It was also found that eating whole grains significantly slows down the narrowing of the arteries.
Quinoa is easy to include in your diet because it can be enjoyed in a variety of ways. It is most commonly used in pure seed form, but it is also available as flakes, flour, pasta, and polenta from specialist food stores.
Tags: essential amino acids, high fiber food, migraine sufferers, perfect protein, protein for vegans, vegan diet