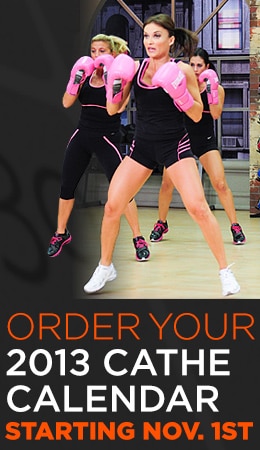 Our 2013 Cathe Calendar is packed full of pictures from our newest videos , including Xtrain, CrossFire, and Too the Max as well as all of our 2012 Road Trips. This is a must have collectible for all Cathe fans! The wall calendar measures 12 inches by 24 inches when opened and has been designed to help you chart and reach your fitness goals. You will love the large motivating pictures featured every month of Cathe, Cathletes and our crew.
Please note that this is a limited time offer and we are ONLY taking orders until Nov 15th 2012. After November 15th 2012 we will no longer accept any additional calendar orders. Therefore, don't forget to place your order as soon as possible. Calendars will ship sometime in December.
Since we're only printing exactly the number of calendars we receive orders for all sales are final and calendar orders cannot be cancelled after November 15th.
For the cheapest shipping of your calendar only order you should select USPS for your shipping method. If you also order DVDs or Fitness by Cathe products that qualify for free shipping and your order totals at least $50 (after applying any applicable coupons) you will get Double Free Shipping!. This means any current items you order now will ship for free and will be sent out now. When your calendar is in stock it will also ship for free.
As long as you order at least one calendar you may also use coupon code: CAL2013″ with your calendar order and receive a 20% discount off any additional products we sell on our shop.cathe.com site. ( Excluding the 2013 Calendar and pre-sale Xtrain videos). Any current DVDs or products you order with your calendar will ship now and your calendar will ship when available in December. (20% coupon may not be combined with any other coupon and purchase of 2013 Calendar is required when using this coupon. All orders are checked by a customer service employee for compliance). | Order Today |
Tags: calendar orders, calendars, cathe, wall calendar