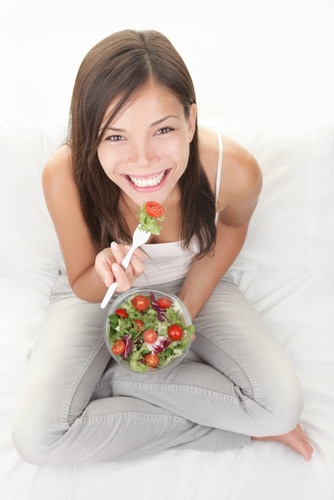 Salads are good way to add more fruits and veggies to your diet, and they can help you control your weight – if you don't top them with a heavy dressing, a handful of croutons and a generous serving of cheese. Eating salad is also a good way to enjoy more raw foods, foods that haven't had their nutrients destroyed by exposure to high heat. There are ways to make a salad even healthier – by what you put on top. Here are five healthy salad toppers that'll add more nutritional punch to your next garden salad.
Broccoli Sprouts
Broccoli sprouts are three-day old sprouts. These tiny but powerful plants are packed with healthy phytochemicals that protect against disease. In fact, they have more cancer-fighting power than the mature broccoli plant because they aren't cooked. This keeps myrosinase, an enzyme that converts phytochemicals called glucoraphanins in broccoli and broccoli sprouts, to sulforaphane. Sulforaphane is a sulfur compound that has potent anti-cancer properties, particularly against hormone-dependent cancers like breast cancer. Sounds like a good reason to add them on your next salad, doesn't it? You can find broccoli sprouts in many grocery stores and natural food stores.
Pine Nuts
Pine nuts add crunch to a salad and offer health benefits as well. These tiny nuts that are actually seeds stimulate the release of CCK, a hormone that increases satiety. This makes a garden salad more filling. In addition, pine nuts are a good source of heart-healthy monounsaturated fats and vitamin E, an antioxidant vitamin that protects against heart disease. It also contains significant amounts of magnesium, a mineral that's important for heart health. Sprinkle pine nuts on a salad to satiate your appetite quicker and keep your heart healthy.
Blueberries
Blueberries add natural sweetness to a garden salad, and they're rich in compounds called anthocyanins. These natural pigments give blueberries their brilliant color while also keeping your brain healthy. One study showed that a combination of blueberries and walnuts boosted cognitive function and brain power in rats and are believed to have cognitive benefits in humans too. Some animal studies even show that anthocyanins in blueberries trims belly fat by reducing fat storage in the waistline and abdominal region. Need another reason to eat them? They contain more antioxidants that almost any other fruit.
Mushrooms
Mushrooms have a variety of potential health benefits, and you don't need to buy fancy ones to enjoy them. The humble button mushroom slows breast cancer growth in mice, and mushrooms of all types boost immunity against infection. Mushrooms also have the potential to stunt the growth of prostate cancer cells. Mushrooms offer natural protections against the disease many people fear most – cancer.
Sunflower Seeds
Tired of nuts? Add a spoonful of sunflower seeds to your salad instead. Sunflower seeds are one of the best sources of vitamin E, an antioxidant vitamin that stamps out inflammation and helps to keep your heart healthy. A quarter cup of vitamin E provides more than 60% of the amount of vitamin E you need in a day. They're also a good source of heart-healthy phytosterols and monounsaturated fats that lower LDL-cholesterol.
The Bottom Line?
Enjoy more salads, and don't forget to add these five super-healthy salad toppings to give them even more nutritional benefits.
References:
Lipids Health Dis. 2008; 7: 10.
Science Daily. "Diet Of Walnuts, Blueberries Improve Cognition; May Help Maintain Brain Function"
City of Hope. "Researchers study mushrooms' cancer-fighting potential"
World's Healthiest Foods website. "Sunflower Seeds"
Tags: antioxidant vitamin, blueberries, broccoli plant, fruits and veggies, garden salad, phytochemicals, pine nuts